Stainless Steel Banding and Strapping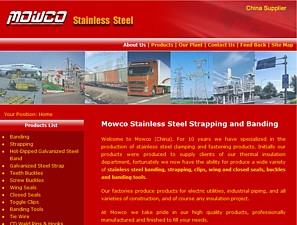 Welcome to Mowco (China). For 10 years we have specialized in the production of stainless steel clamping and fastening products. Initially our products were produced to supply clients of our thermal insulation department, fortunately we now have the ability for produce a wide variety of stainless steel banding, strapping, clips, wing and closed seals, buckles and banding tools.
Our factories produce products for electric utilities, industrial piping, and all varieties of construction, and of course any insulation project.
At Mowco we take pride in our high quality products, professionally manufactured and finished to fill your needs.
We would be pleased to have an opportunity to fill any and all of your requirements.