Jubao Hardware Products CO.,Ltd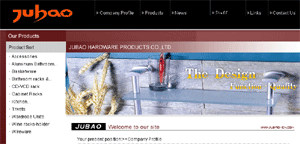 Sine 2000-JUBAO stands for design,function & quality.
Our efforts are concentrated on the essentials:a combination of appropriateness,usefulness & functionality in a nice design!
Ergonomics,function & optimized usage of space are the most important characheristics of our products.
Machinery & equipment especially engineered and for manufacturing JUBAO products is made by our own in-house tooling and machinery department.
Our modern electroplating facility has been built according to the latest environmental technology.we electroplate our products in chrome and gold finishes.
With our employees,we are prepared for the challenge of the future.
http://www.jubao-cn.com/english/introduce.php