HengWanLong Stone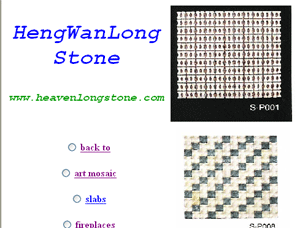 Xiamen HengWanLong Stone Co. Ltd, located in the beautiful plage city -- Xiamen, in Fujian Province. it has held about seven years old on producing natural stone products.

We have got one manufactory, one mosaic factory, one exhibition hall in Xiamen.

We make the diaphanous mosaic, elegence art pattern, splendid fireplace, multi-size slabs, living border line in our factories, display them in our exhibition hall which is the biggest one in Xiamen.

We not only do the business of projects, but also have many decoration design of family. We are full of the experience on choosing the colour, pattern, quality of the natural stone materials.
http://www.heavenlongstone.com/english.html