Dongxu Precision Metal Casting Co.Ltd - Dongying , Shandong province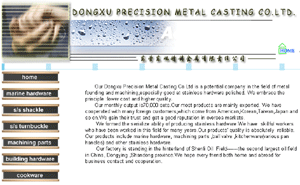 Our Dongxu Precision Metal Casting Co.Ltd is a potential company in the field of metal founding and machining,especially good at stainless hardware polished. We embrace the principle :lower cost and higher quality.

Our monthly output is 70,000 sets. Our most products are mainly exported. We have cooperated with many foreign customers,which come from American,Korean,Taiwan,Japan and so on.We gain their trust and get a good reputation in oversea markets.

We formed the serialize ability of producing stainless hardware.We have skillful workers who have been worked in this field for many years.Our products' quality is absolutely reliable. Our products include marine hardware, machining parts ,ball valve ,kitchenware(various pan handles) and other stainless hardware.

Our factory is standing in the hinterland of Shenli Oil Field-------the second largest oil field in China, Dongying ,Shandong province.We hope every friend both home and abroad for business contact and cooperation.
http://www.dongxu-china.com/index.html