Hong Ying Stone Company - Quality stone & building material supplier in China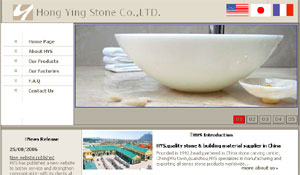 Founded in 1992,headquartered in China stone carving center,ChongWu town,Quanzhou,HYS specializes in manufacturing and exporting all series stone products worldwide.

After fast growth in the past decade,HYS now becomes a modern manufacturing and export complex with 3 plants and more than 300 employees.To better service to its clients ,HYS established Xiamen representative office in 1996. In the past decades, HYS exported a lot of products to European countries, America, Japan, southeast Asia and so on,and It succeeded to establish a good sales network worldwide. HYS not only provides high quality products at competitive prices as well as fast delivery, but also it always tries to provide more value-added services for our customers. HYS not only aims to make customers satisfacted, but also tries to help them grow rapidly.

HYS will be pleased to establish long term and successful business relationship as well as friendship with customers all over the world.HYS will be your best choice of quality stone supplier and partner in China.