Metal Castings - DONGYING LIANCHUANG PRECISIONE METAL CO.,LTD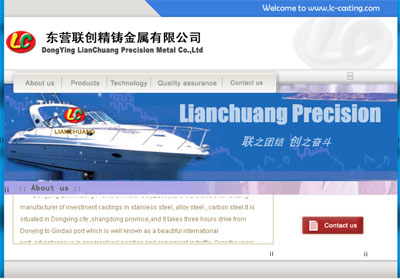 Dongying Lianchuang precision metal co.,ltd is a professional leading manufacturer of investment castings in stainless steel, alloy steel , carbon steel.It is situated in Dongying city ,shangdong province,and It takes three hours drive from Donying to Qindao port which is well known as a beautiful international port ,advantageous in geographical position and convenient in traffic.
Over the years, Lianchuang has formed a comprehensive ability of casting, mould design, electro-polishing, polishing, machining, and so on. Lianchuang currently adopts the most advanced investment casting(lost wax) process to produce all kinds of carbon steel¡¢alloy steel¡¢stainless steel precision casting parts with excellent investment casting productive equipment, machining equipment£¬and up-dated chemical analysis and physical test equipment. The adopted material standards can be involved with GB of the State; ASTM & AISI of America; DIN of Germany; JIS of Japan; BS of Britain, etc. In addition We carry out the modern management mode, with the performance of ISO9001: 2000 quality management system . All the above enable us have the ability to produce the highest quality products and supply the best service.
The products are widely used and nearly cover all machining industries , such as mining,machinery¡¢petroleum¡¢boats¡¢auto-motorcycle¡¢fittings¡¢hardware¡¢construction ¡¢appliances.
0ur current products series include: commercial machine parts, marine hardware£¨cleats,chocks,rail & deck hardware,boat top hardware,hinges,trough hull,shackles & hooks,riggings,anchor£© building hardware, impel ler, ball valve, screwed pip fittings, fast couplings and so on,which is mainly exported to North American, Japan, Europe, Korea, and Taiwan and win good reputation in international market.