Aakriti Enterprises - temperature measurement.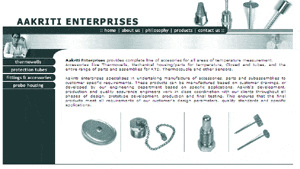 Aakriti Enterprises provides complete line of accesories for all areas of temperature measurement.
Accessories like Thermowells, Mechanical housing/parts for temperature, Closed end tubes, and the entire range of parts and assemblies for RTD, Thermocouple and other Sensors.

Aakriti Enterprises specializes in undertaking manufacture of accessories, parts and subassemblies to customer specific requirements. These products can be manufactured based on customer drawings, or developed by our engineering department based on specific applications. Aakriti's development, production and quality assurance engineers work in close coordination with our clients throughout all phases of design, prototype development, production and final testing. This ensures that the final products meet all requirements of our customer's design parameters, quality standards and specific applications.
http://www.aakritienterprises.com/