Built in Kitchen Systems : DSL Global / KAFF (Sri Lanka)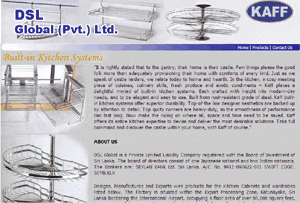 Manufacturers of 'KAFF' branded elegant and exquisite accessories / wire products for Kitchen cabinets made from 304 grade Stainless Steel WIRE – Maximum utility of space – Complete with railing systems – ready to fit.
Baskets and Accessories are placed in Polythene Bags and packed in Corrugated Cartons. Products and Packing can also be Custom Made
ABOUT US
DSL Global is a Private Limited Liability Company registered with the Board of Investment of Sri Lanka. The board of directors consist of one Japanese national and two Indian nationals. The Bankers are: SEYLAN BANK Ltd. Sri Lanka. A/C. No. 9911-090622-001 SWIFT CODE: SEYBLKLX
Designs, Manufactures and Exports wire products for the Kitchen Cabinets and wardrobes listed below. The Factory is situated within the Export Processing Zone, Katunayake, Sri Lanka bordering the International Airport, occupying a floor area of over 50,000 square feet, having state-of-the-art machinery with a trained work force of nearly hundred personnel.