Level sensors, switches and transmitters that you can rely upon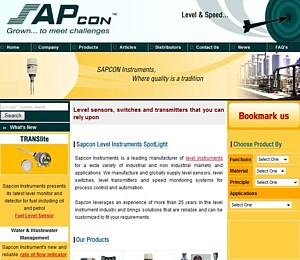 Sapcon Instruments is a leading manufacturer of level instruments for a wide variety of industrial and non industrial markets and applications. We manufacture and globally supply level sensors, level switches, level transmitters and speed monitoring systems for process control and automation.
Sapcon leverages an experience of more than 25 years in the level instrument industry and brings solutions that are reliable and can be customized to fit your requirements.
http://www.sapconinstruments.com/