Manufacturer and Exporter of Stainless Steel Sheet products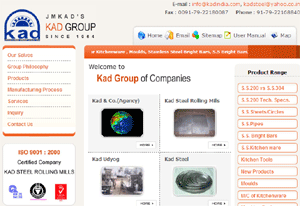 We would take this opportunity to introduce ourselves as manufacturer and Exporter of Stainless Steel Sheets / Circles (Not Coils) in 200 Series/304 Series and Kitchenware like Bowls, Stock pots, Pots, Pans, Fabricated pots, Trays, Dishes, Sinks, Special items as per customers requirement.

200 Series S.S. Sheets / Circles are having wide acceptability against 304 series steel for manufacturing of KITCHENWARE items / FLATWARE like Stock Pots, Pans, Bowls, Tea pots, Trays, Spoons, Forks etc. In India, 20000tons of S.S.-200 Kitchenware is exported per month in form of sheet circle and kitchenware.

S.S. 200 is having all the features of stainless steel like non-corrosive, non-magnetic and attains bright finish on polishing.

At present, our S.S.-200 Sheets / Circles are being exported to China, Hong Kong, Philippines, Vietnam, South America, South Africa, UAE, Iran, Indonesia, Malaysia, Turkey, Pakistan, Bangladesh etc.